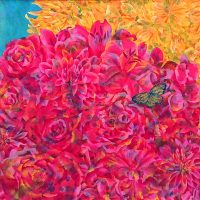 " Stay Cheerful and Keep Looking Up"
The theme of this artwork is " hope ".
I painted this picture hoping that COVID19 will be gone and 2021 will be a year full of hope.
My artwork uses mineral pigments, japanese paper WASHI, natural liquid glue and water.
Mineral pigments are made by crushing gems,stones ,shells and the like.
In other words, my artwork uses only natural materials.
Thank you for your interest in my artwork!