Biography
Releasing the sparkles of the stardust back to space – is the magic Nobuyo Sakakibara makes in her art.
In August 2022, Nobuyo Sakakibara succeeded in hosting a solo exhibition in Chelsea, New York,
with a myriad of galleries, in which art connoisseur New Yorkers praised her works as embodying light and air.
Nobuyo grew up in a nature-rich land where the road of flowers meets the horizon.
The sky full of stars and the field flown over by frolicking butterflies are where she takes inspiration for her paintings with a vibrant touch.
Japanese-style Painting came into her life quite naturally.
Mineral pigments that are made by crashing gems and minerals are the stardusts that stole Nobuyo's heart in her childhood in disguise.
Japanese paintings painted with ore, mulberry paper, water, and animal glue give you a sense of reconnecting with the universe.
In recent years, Nobuyo has been working on a series Blooming of a New World.
They are based on the imagery of a flower blooming in the middle of the universe, and seeds traveling from her thus giving birth to a new universe.
She renders flowers as a symbol of new life.
Having gone through the dark days of the Corona pandemic, she projects her hope for the world ahead of us full of happiness onto her work.
She graduated from Nagoya Zokei Junior College of Art & Design Japanese Painting course, finished a Japanese Painting specialty program there, and has been painting Japanese Paintings for the past 30 years.
Her works have been exhibited at numerous exhibitions – both solo and group.
She has a group of art collectors in New York who admire her work.
Alongside exhibiting her works, she serves as a screening member of Toka Art Association and a participating artist for restoration projects of old housing.
Nobuyo mixes the old and the new on her palette and showcases one-and-only expressions.
Schedule

Loading…
Profile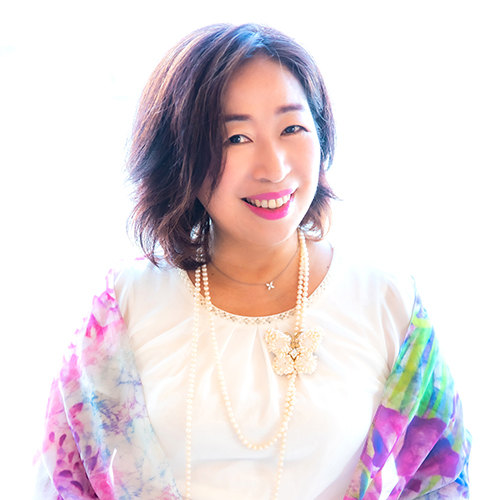 Nobuyo Sakakibara
(榊原 伸予)
Nagoya Zokei Junior College of Art & Design(Nagoya Zokei University of Art & Design)Graduated from Japanese Painting Course.
Nagoya Zokei Junior College of Art & Design Advanced course completion.
Art organization [Toukakai] member.(Exhibition judge)
Aichi Art and Culture Network [ANET] member.
Toyohashi Art Exhibition Invitation artist / Japanese-style painter.
[AIPLAZA TOYOHASHI] Japanese painting class instructor.
Overseas, member of JCAT (Japanese Contemporary Artists Team) based in New York.
Solo exhibition at Noho M55 Gallery, Chelsea, New York, August 2022.
In December, she expands her activities to Paris.
Held many Japanese-style painting workshops in Japan and abroad to promote Japanese-style painting.