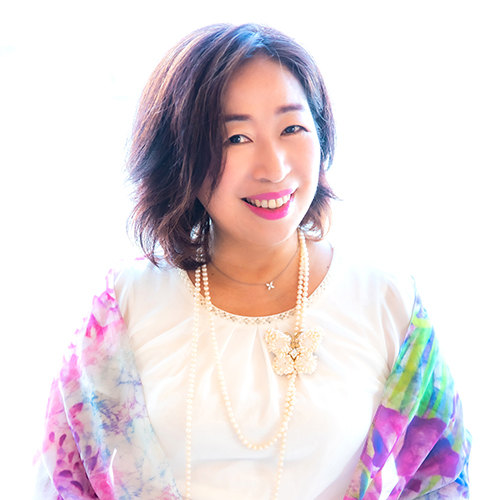 Nobuyo Sakakibara
(榊原 伸予)
Nagoya Zokei Junior College of Art & Design(Nagoya Zokei University of Art & Design)Graduated from Japanese Painting Course.
Nagoya Zokei Junior College of Art & Design Advanced course completion
Art organization [Toukakai] member(Exhibition judge)
Aichi Art and Culture Network [ANET] member
Toyohashi Art Exhibition Invitation artist / Japanese-style painter
[AIPLAZA TOYOHASHI] Japanese painting class instructor
Overseas, I am based in New York as a member of JCAT (Japanese Contemporary Artists Team).
In 2020, I will expand my activities and expand into Europe.
Japanese painting workshops are also held in Japan and overseas to let people know about Japanese painting.
In 2021, I will have a solo exhibition in Chelsea, New York.

1988
[Japanese painting Group exhibition 7 people] Nagoya City Museum
1991
SOLO Exhibition [Sakakibaranobuyo Japanese painting exhibition] Toyohashi City Museum Art & history
1992
SOLO Exhibition [Sakakibaranobuyo Japanese painting exhibition ~Temptation to Hana~] Atelier Fuji(Toyohashi,Aichi)
1993
SOLO Exhibition [Sakakibaranobuyo Japanese painting exhibition ~ Four seasons ~] Atelier Fuji(Toyohashi,Aichi)
1994
SOLO Exhibition [Japanese painting Sakakibaranobuyo exhibition] Fujinoshiro Gallery(Toyohashi,Aichi)
1995
SOLO Exhibition [Sakakibaranobuyo exhibition small-sized Japanese paintings] Fujinoshiro Gallery(Toyohashi,Aichi)
1996
SOLO Exhibition [ Japanese painting Sakakibaranobuyo exhibition ~ Rose&woman…~ ] Fujinoshiro Gallery(Toyohashi,Aichi)
1997
SOLO Exhibition [Japanese painting Sakakibaranobuyo exhibition ~ Seasonal color ~ ] Fujinoshiro Gallery(Toyohashi,Aichi)
2003~
Group exhibition [KAERU] Gallery Saiundoo(Okazaki,Aichi)
2004
Toyohashi Citizen's Exhibition Grand Prize
2006
[Japanese painting five person exhibition] Toyohashi City Museum Art & history
2009
Art group [Toukakai] Incentive award
2010~
[Year-end charity painting exhibition] Gallery S(Toyohashi,Aichi)
Art group [Toukakai] New face award
2011
[Nagoya Zokei University reunion Toyohashi branch -Art Tornado Art Exhibition-] Development Center for Children's Futures KOKONIKO(Toyohashi,Aichi)
[Nagakute Art Festival -Great East Japan Earthquake charity auction-](Nagakute,Aichi)
2012
Art organization [Toukakai] Fellow member award
2013
SOLO Exhibition [Sakakibaranobuyo Japanese painting exhibition] Toyohashi City Museum Art & history
2014
[Nagoya Zokei University reunion Toyohashi branch -Sanen OB Exhibition-] Gallery Koen-dori(Toyohashi,Aichi)
2015
SOLO Exhibition [Sakakibaranobuyo Japanese painting exhibition ~ Rainbow in the drops ~] Gallery AYA(Nagoya,Aichi)
2016
SOLO Exhibition [Sakakibaranobuyo Japanese painting exhibition] Toyohashi City Museum Art & history
SOLO Exhibition [Sakakibaranobuyo Japanese painting exhibition ~ Rainbow Concerto ~] Gallery S(Toyohashi,Aichi)
Art organization [Toukakai] Commissioner award
2017
SOLO Exhibition [Sakakibaranobuyo Japanese painting exhibition ~ The coming of Spring ~] Anniversary Restaurant BONNE FEMME(Toyohashi,Aichi)
SOLO Exhibition [Sakakibaranobuyo Japanese painting exhibition ~ Wish Upon a Star ~] Gallery gradual(Toyokawa,Aichi)
2018
SOLO Exhibition [Sakakibaranobuyo Japanese painting exhibition ~ Fragments of the stars ~] Gallery Akatsuki(Ginza,Tokyo)
SOLO Exhibition [Sakakibaranobuyo Japanese painting exhibition]Chubu Gas Meiho Gallery(Toyohashi,Aichi)
Two person exhibition [Shining flowers] Gallery Koen-dori(Toyohashi,Aichi)
Art organization [Toukakai] Sizutaro Matsumoto award
2019
SOLO Exhibition [Sakakibaranobuyo Japanese painting exhibition ~ Sweet rain ~] Gallery gradual(Toyokawa,Aichi)
2020
Art organization[Toukakai]Member award